Access to justice
Access to justice
Advocating for justice for all
Access to justice is often narrowly described as ensuring that everyone has access to the legal representation they need, including through legal aid. Our understanding of access to justice is much broader.
Our goal is to ensure equitable and meaningful access to the existing legal system, while promoting decolonization, Indigenous self-determination, and alternative visions and pathways to justice.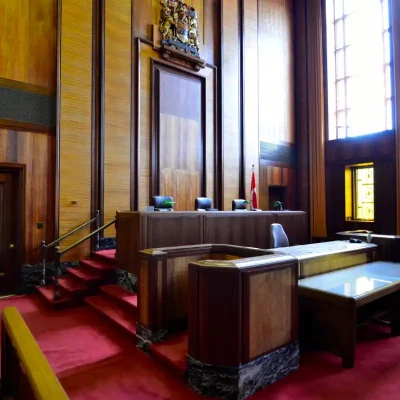 When we think about access to justice in BC, we consider systemic barriers to resolving legal problems in court such as colonialism, patriarchy, and discrimination, which make trust and confidence in the system tenuous.
Access to justice includes the potential to develop alternative pathways to justice, such as more collaborative and culturally informed approaches and specific pathways for Indigenous Peoples. For those who engage with (or are forced to engage with) the colonial legal system, we advocate for expanding access to legal aid to help them navigate complex procedures and achieve more just results.
We look at access to justice through the lens of equitable and just outcomes and remedies. This includes access to: 
Representation for all women and people experiencing gender-based discrimination, especially in family law
Judicial resolutions of equality law claims, under both the Charter and human rights law
Just outcomes from the legal system
Access to culturally competent services/Indigenous laws and legal systems
Education aimed at empowering people to understand their legal and non-legal options and the supports available to deal with legal problems
We're keeping an eye on the access to justice landscape in BC and across Canada as part of a larger effort to track developments across our six focus areas.
Work in progress
We work to expand access to justice by observing and tracking trends, consulting with community partners, and working on select legal cases that affect access to justice for individuals and groups who experience intersecting forms of marginalization.
We believe everyone should have access to the legal help necessary to protect their rights and safety, and their children's well-being. This includes legal help for problems connected to separation or divorce, involvement with the family policing system, insecure housing, and poverty.
In recent years there have been modest increases in funding for BC's legal aid system, allowing a handful of new community legal clinics to offer needed services across BC. However, enormous gaps in access to legal help remain, leaving marginalized people without a way to enforce their rights. 
The inability to access legal assistance can be life-threatening, and we believe BC must actively work to ensure access for all marginalized groups.
We advocate for and monitor progress on the elimination of systemic barriers to justice, including barriers to access and forms of structural discrimination that arise from the colonial legal system. We recognize that there are limits to what the legal system offers, but that people may become engaged in the legal system whether or not they choose to. 
BC made commitments to align laws with the UN Declaration on the Rights of Indigenous Peoples by passing provincial legislation in 2019. We're carefully observing what impact this will have on Indigenous Peoples' access to justice, whether through colonial legal processes or through their own distinct laws, legal orders, and traditions.
Other systemic barriers on our radar include ways to improve people's ability to understand and navigate court processes, and increasing diversity within the legal profession and judiciary.
We advocate for the development of appropriate, culturally safe, and respectful alternative pathways to justice and reforms to the legal system, and actively monitor changes to legal frameworks and strategies that look to implement new approaches to  systemic issues. 
This includes the development of an Indigenous justice strategy in BC, which includes the creation of Indigenous Justice Centres, and the implementation of prototype rules around collaborative dispute resolution processes for family law cases. Our lens is always on the assurance of safety, equity, and respect for human rights in new pathways and processes.
Take action for justice and equity!