Equality Breakfast 2020

Equality Breakfast 2020
Presenting Sandy Hudson
International Women's Day
March 6, 2020
Please note this event has passed
For current events see: Attend an event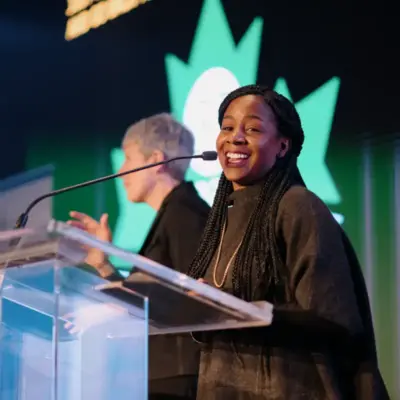 We are grateful to the more than 800 friends, supporters, sponsors, and allies who helped us celebrate our 35th birthday and International Women's Day at our sold-out annual Equality Breakfast on March 6. Thanks to your incredible response, we raised much-needed funds to advance equality and justice for those in BC who are marginalized because of their gender.
We look forward to sharing what form our Breakfast will take in 2021 as we continue to monitor public health guidelines and endeavor to keep each other safe and healthy.
You can now relive the magic—or see what you missed—by viewing the photo gallery featuring more about 200 beautiful shots by Johnny Liu and Valerie Hsu of Johnny Liu Photography.
See our FAQ section for more details on tickets, venue, and more!
Presented by:
Presenting sponsor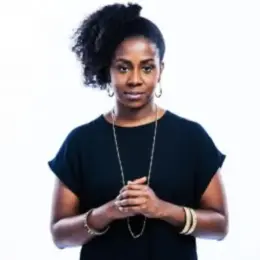 Keynote Speaker: Sandy Hudson
Founder of the Black Lives Matter movement Canada, public intellectual and political activist
A woman of boundless energy, Sandy Hudson is the founder of Black Lives Matter in Canada, sits on the Black Lives Matter Global Network Strategy Table, is Vice-Chair of the Black Legal Action Centre, is co-host of the Sandy and Nora Talk Politics podcast, is the Editor-in-Residence of Kalamazoo College's Praxis Center for Social Justice, and regularly contributes to several major newspapers in the United States and Canada.
Sandy is a published author who has contributed to two volumes, Race and Racialization, and New Framings in Anti-Racism. Sandy is also serving on the editorial team for a forthcoming anthology about Black life in Canada scheduled for release in February 2020.
Sandy holds a Master of Arts degree in Social Justice Education from the University of Toronto, and is currently pursuing a degree in law at UCLA. An award-winning community organizer, the Ontario Institute for Studies in Education has awarded her with the Emerging Leader award for 2019, and she received the Lincoln M. Alexander Award from Osgoode Law at York University in 2018. In 2016 she was named one of Toronto Life's Most Influential People of Toronto and one of Post City Magazine's Most Inspiring Women.
Sandy's community organizing experience began as an undergraduate student at the University of Toronto. Unable to afford the expensive computer science program she was initially admitted to, Sandy turned to her students' union, and joined the movement for accessible education. A charismatic leader, she quickly became the first Black woman to be elected president of the University of Toronto Students' Union and subsequently the first Black woman to be elected Chairperson of the Canadian Federation of Students. In these roles, she led creative campaigns to address sexual violence, racism, poverty and racism on campus, including a revamp of the well-known No Means No campaign and an Ontario-wide investigation into racism on campus, culminating in a comprehensive report used to address structural racism in colleges and universities across the country.
As head of these student organizations, Sandy represented the interests of over 300,000 students with diverse backgrounds, geographies, interests and experiences. In organizations like these, leadership must be attuned to the fluctuating needs of a complicated membership, who are not always on the same page. Sandy managed to make these diversity of ideas a strength of the organization, and developed a leadership style that built power through empowering the development of her membership.
Sandy used these experiences in building Black Lives Matter in Canada, one of the most impactful anti-racism organizations of our time. Engaging in grassroots community activism, Black Lives Matter in Canada was born after a discussion between Sandy Hudson and her brother in the fall of 2014. Both were distraught about the slaying of Michael Brown by Darren Wilson in Ferguson, Missouri, and the local slaying of Jermaine Carby by Ryan Reid in Brampton, Ontario. Both were feeling isolated and powerless. Desiring a way to express their frustration and grief, Sandy's brother encouraged her to use her breadth organizing skills to organize a demonstration. Sandy contacted dozens of Black organizers across the country; mostly women, mostly queer,;and asked if there was interest in organizing a demonstration. The response was overwhelmingly positive. On November 25, 2014, the first actions of Black Lives Matter in Canada took place in Toronto, Edmonton, Ottawa and other cities across the country.
From its inception, Black Lives Matter in Canada has expressly challenged Canada's perception of itself as free of anti-Black racism, shifted the ways in which anti-Blackness is considered and discussed culturally, and forced significant policy change. With her team, Sandy's work spawned new regulations in policing, a judicial review into police accountability measures, significant funding commitments for Black arts and culture, and a cultural shift in awareness of issues facing Black communities in Canada. Beyond that, Sandy joined the Black Lives Matter Global Network team, where she helps to develop the international orientation of the movement that began in the United States.
Sandy is a budding public intellectual, and strengthens her community organizing work with her writing, scholarship and media work. The current Editor-in-Residence of the Praxis Center for Social Justice Leadership at Kalamazoo College, Sandy brings together writers and community organizers from all over the world to contribute essays, poems and opinion pieces on some of the most difficult challenges facing our world today. Having recently obtained her Master of Arts in Social Justice Education from the University of Toronto, Sandy is a published author who has contributed to two volumes, Race and Racialization, and New Framings in Anti-Racism. She is also serving on the editorial team for a forthcoming anthology about Black life in Canada scheduled for release in February 2020.
Throughout her years of community organizing experience, Sandy has developed an approach for campaign-based organizing built on the belief that the most important step in a campaign is the belief that the goal can be achieved, and ordinary people can become the champions that achieve it. Even the most complex social issues facing our world today are surmountable. An audacious belief that what may seem impossible is achievable is the key to Sandy's approach to social change. Leaving a trail of victories behind the organizations she works with, she works from a framework of possibility and hope.
Sandy continues to channel her passion for education into her work today. Best known for her public approach to anti-racism work, Sandy also engages in alternative forms of education in order to share the skills and knowledge she has gained over a lifetime of social justice community organizing with organizations all over Canada and beyond. Sandy has shared her skills with the Organization for Security and Cooperation in Europe, United States College Access Forum, the World Federation of Youth and Students, the Ontario Human Rights Commission, Unifor, the Canadian Union of Public Employees, the Public Service Alliance of Canada, the Jack Layton Leadership School at Ryerson University, York University, Western University, Canroots, the Stratford Festival, the Luminato Festival, the Canadian Institute for the Administration of Justice, the Ontario Human Rights Legal Support Centre, the University of Toronto, Maytree, United Steelworkers, the Ontario Public Service Employees Union, the Canadian Association of Labour Media, the Art Gallery of Ontario, the Centre for Integrative Anti-Racism Studies, Ryerson University, McMaster University, Hart House, the Higher Education Quality Council of Ontario, and New Democratic Party, among numerous others.
Sandy is a refreshingly honest and engaging media communicator and passionate speaker. She has appeared in two documentaries, the New York Times, Toronto Star, CP24, Global News, the Huffington Post, Buzzfeed, and TVO.org among other news media. Sandy's published media work appears in FLARE magazine, the Washington Post, the Toronto Star, and Now Magazine, among others.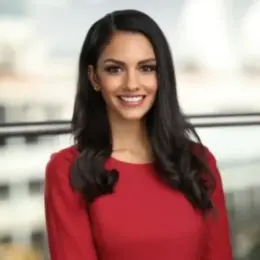 Emcee: Anita Bathe
Anita Bathe is both co-host and front-line investigative reporter with CBC VANCOUVER NEWS' flagship supper hour program at 6 p.m. A passionate journalist known for chasing breaking news and giving citizens a voice, Anita is part of a committed team dedicated to bringing viewers not only the news of the day but also fresh perspectives on community stories that matter to them through all media platforms.
Bathe has taken a lead role in covering recent issues and stories that impact the community, such as the B.C. wildfires in 2017 and 2018, Constable John Davidson's shooting death in Abbotsford, and the 2017 B.C. provincial elections. Her journalism career spans more than 10 years, with a decade in broadcast radio covering local news across British Columbia, including Prince George, Squamish, to Victoria and Metro Vancouver and the Fraser Valley.
A multiple RTDNA (The Radio Television Digital News Association) winner, Bathe was awarded the Jack Webster Fellowship in 2015 and has won several BCAB (British Columbia Association of Broadcasters) awards for her in-depth reporting on breaking news stories, such as Vancouver Port fire and Yaletown Science World shootings. She believes wholeheartedly in getting the answers and accountability viewers want and need.
Bathe is a British Columbia Institute of Technology graduate. Prior to joining CBC in 2016, she was a reporter for News 1130.
Raised on a blueberry and raspberry farm in Abbotsford, Bathe hugely values the farming industry in the Fraser Valley and its importance to British Columbia. She has travelled to more than 20 countries around the world and loves to read, cook, and spend time with friends and family.

Volunteer with us next year!
Are you passionate about gender equality and social justice?
Would you like to contribute to the success of a large-scale fundraising event?
Email us at breakfast@westcoastleaf.org for more info.
2020 Equality Breakfast Photos
Welcome to the 2020 Equality Breakfast photo gallery. What a photogenic crew of equality supporters you folks are!*
These gorgeous images were captured by the talented Johnny Liu and Valerie Hsu, both of Johnny Liu Photography. You can follow Johnny Liu Photography on Facebook Instagram and Pinterest. Photo files are compressed; to see a larger image, click on the photo, it will open in a new window, then click on it again to see a higher-resolution version.
*If you would prefer that we take an image down from our website, don't hesitate to contact us to make a specific request.
Thank you to our sponsors
Presenting Sponsor
Media Sponsor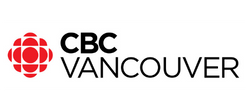 Gold Sponsors
Bronze Sponsors
Canadian Bar Association – BC Branch
Federation of Post-Secondary Educators of BC
Guild Yule LLP
Harper Grey LLP
JFK Law Corporation
Juristes Power | Power Law
Lawson Lundell LLP
Mandell Pinder LLP
McCarthy Tétrault LLP
Miller Titerle + Company
Public Service Alliance of Canada – BC Region
Singleton Urquhart Reynolds Vogel LLP
Trial Lawyers Association of British Columbia
Faculty of Law, University of Victoria
ZSA Legal Recruitment
Print Partner

Merchandise Partner


Partner with us next year!
Demonstrate that you value gender inclusion and diversity in leadership in BC
Our annual Equality Breakfast is only possible because of the generous support of our Partners. Partnership is a highly visible way to demonstrate that you value gender inclusion and diversity in leadership, are committed to social responsibility, support access to justice for all, and want to see a more equal and just BC.
To learn more about the impacts and benefits of partnership, send us an email.
Frequently Asked Questions
Event Details
Tickets
Partnerships
Silent auction
Membership
Silver Sponsors