About the report card
The BC Gender Equality Report Card 2019/2020 assesses the BC government's progress in advancing human rights and gender justice between December 2018 and early April 2020. It explores six issue areas: access to justice; economic security; freedom from gender-based violence; health care; justice for people who are criminalized; and the rights of parents, children, and youth. Insights from community dialogues held in partnership with PACE Society, Urban Native Youth Association, and the Coalition Against Trans Antagonism ground the Report Card in firsthand community knowledge. The Report Card also highlights principles from international law to hold the BC government accountable to globally recognized human rights standards.
This report is part of our larger Gender Equality Report Card project.
On December 10th 2020, Human Rights Day, we also published an addendum to this Report Card focusing on BC's handling of the COVID-19 pandemic. Read the COVID-19 BC Gender Equality Report Card.
Heartfelt thanks to the community dialogue participants, research volunteers, community reviewers, and our generous project funders, the Law Foundation of BC and Health Sciences Association of BC.
Eight social media images now available!
In August 2020, we launched eight social media images to amplify the knowledge shared by community groups for the BC Gender Equality Report Card, along with a social media toolkit to make sharing easy! We are grateful to have worked with Sam Bradd of Drawing Change on these images. Sam also created the gorgeous cover illustration for the BC Gender Equality Report Card! Just a sampling of the images is shown below.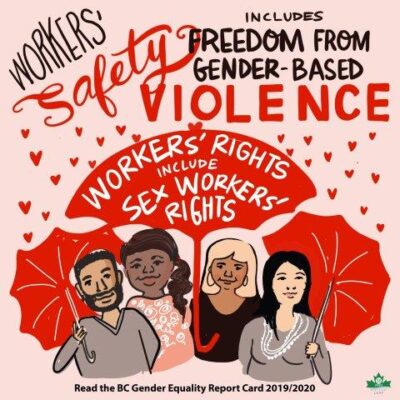 Downloads
Download the BC Gender Equality Report Card 2019/2020.
Download the Executive Summary Gender Equality Report Card 2019/2020.
Webinar
We were pleased to offer an overview of Report Card findings in a free webinar on Monday, June 15th, 2020. Thanks to Courthouse Libraries BC for their generous support and collaboration to make the webinar possible!
View the archived webinar video or the webinar PowerPoint slides.
The BC Gender Equality Report Card is made possible by generous funding from: