Equality Breakfast 2021

Equality Breakfast 2021
Presenting Kali Spitzer, El Jones, and Jules Arita Koostachin
International Women's Day
March 8, 2021
Please note this event has passed
For current events see: Attend an event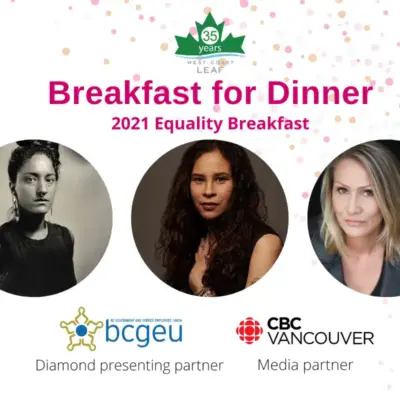 We loved sharing a unique virtual Breakfast for Dinner celebration with our community on Wednesday, March 24, 2021. It was just like the Equality Breakfast you know and love, but in the evening … and on Zoom! We were heartened by how many of you joined us (cozied up with your household or bubble, on your own, or alongside your colleagues!) for a joyous and thought-provoking evening, all for a great cause.
We were thrilled to present Know Us by the Stories We Tell: Imagining the Future as a Feminist Practice, a discussion featuring Kali Spitzer, photographer; El Jones, spoken word poet, educator, journalist, and community activist; and Jules Arita Koostachin, writer, performance artist, academic, and filmmaker, in conversation with CBC Vancouver's Gloria Macarenko.
For event logistics, accessibility, and questions about your tax receipt, visit our FAQ section.
Presented by:
Diamond Partner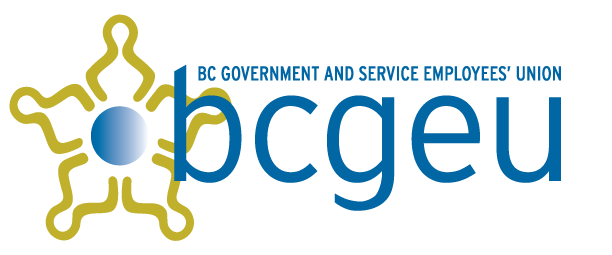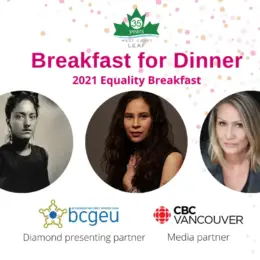 Keynote speakers: Kali Spitzer, El Jones, and Jules Arita Koostachin
Kali Spitzer is a photographer living on the Traditional Unceded Lands of the Tsleil-Waututh, Skxwú7mesh and Musqueam peoples. The work of Kali embraces the stories of contemporary BIPOC, Queer and trans bodies, creating representation that is self determined. Kali's collaborative process is informed by the desire to rewrite the visual histories of indigenous bodies beyond a colonial lens. Kali is Kaska Dena from Daylu (Lower Post, british columbia) on her father's. Kali's father is a survivor of residential schools and canadian genocide. On her Mother's she is Jewish from Transylvania, Romania. Kali's heritage deeply influences her work as she focuses on cultural revitalization through her art, whether in the medium of photography, ceramics, tanning hides or hunting.
Kali studied photography at the Institute of American Indian Arts, and the Santa Fe Community College. Under the mentorship of Will Wilson, Kali explored alternative processes of photography. She has worked with film in 35 mm, 120 and large format, as well as wet plate collodion process using an 8×10 camera. Her work includes portraits, figure studies and photographs of her people, ceremonies, and culture. At the age of 20, Kali moved back north to spend time with her Elders, and to learn how to hunt, fish, trap, tan moose and caribou hides, and bead. Throughout Kali's career she has documented traditional practices with a sense of urgency, highlighting their vital cultural significance.
Kali's work has been featured in exhibitions at galleries and museums internationally including, the National Geographic's Women: a Century of Change at the National Geographic Museum (2020), and Larger than Memory: Contemporary Art From Indigenous North America at the Heard Museum (2020). In 2017 Kali received a Reveal Indigenous Art Award from Hnatyshyn Foundation.
Kali would like to extend her gratitude to all who have collaborated with her, she recognizes the trust and vulnerability required to be photographed in such intimate ways.
El Jones is a spoken word poet, an educator, journalist, and community activist living in African Nova Scotia. She was the fifth Poet Laureate of Halifax. In 2016, Elwas a recipient of the Burnley "Rocky" Jones human rights award for her community work and work in prison justice.
She is a co-founder of the Black Power Hour, a live radio show with incarcerated people on CKDU that creates space for people inside to share their creative work and discuss contemporary social and political issues. El was appointed the Nancy's Chair of Women's Studies at Mount Saint Vincent University for the 2017-2019 term. She is a winner of two Atlantic Journalism gold awards in 2018 and 2019. Her book of spoken word poetry, Live from the Afrikan Resistance!, was published by Roseway Press in 2014.
El would like to pay tribute to the many nameless and unrecognized women whose work makes it possible for her to be here today.
Jules Arita Koostachin is an InNiNew IsKwew (Swampy Cree woman) and a band member of Attawapiskat First Nation located in what is now called northern Ontario.  Jules was raised by her Cree speaking grandparents in Moosonee, as well as in Ottawa with her mother, a residential school warrior.  She is a graduate of Concordia University's Theatre program and Ryerson University's Documentary Media Master's program.
In 2010, Jules was awarded an Award of Distinction and an Academic Gold Medal for her thesis documentary film Remembering Inninimowin.  She is the mother of four incredible sons, a published writer, performance artist, an academic and an award-winning filmmaker.  She is a PhD candidate with the Institute of Gender, Race, Sexuality, and Social Justice program at the University of British Columbia and her research focuses on Indigenous documentary practices.
Jules is represented by The Characters Talent Agency in Vancouver, and she is the voice of Layla (Molly's mom) on the award-winning animated series Molly of Denali.  Jules has also been actively working with Indigenous community supporting Indigenous women and children who face barriers. She hopes to continue shedding light on socio-political issues that urban and rural Indigenous peoples face.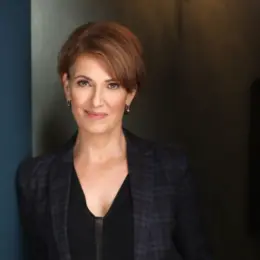 Emcee: Gloria Macarenko
Gloria Macarenko is the host of CBC Vancouver's afternoon show On The Coast, where she explores the day's news and local communities. Gloria is also host of CBC Television's Our Vancouver, a current affairs program that focuses on the city's diverse culture, as well as The Story from Here, a national Radio One show that brings Canadians lively and intriguing interviews from across the country.
Previously, Macarenko hosted CBC Radio One's B.C. Almanac where she connected with British Columbians through conversation. Prior to that, Macarenko hosted the award-winning television newscast CBC News Vancouver.  She has twice been nominated for the Gemini Awards in the category of "Best News Anchor" in Canada.
Gloria Macarenko is an award-winning journalist and senior leader on the news team. In her time with CBC, she has been awarded a Jack Webster Award for "Best News Reporting", and multiple RTNDA Awards including The Peter Gzowski Award for Best National News Information Program. Gloria has guest-hosted on The National and CBC News Now.
Macarenko's relationship with British Columbia goes far beyond the newsroom. You can see her volunteering and hosting for organizations such as Arts Umbrella, Dr. Peter Centre for HIV/AIDS, BC Cancer Foundation, the Gordon Smith Foundation, Cystic Fibrosis Canada, the Prince Rupert Foundation and the International Women's Forum. Her charitable work in the community and contributions to Canadian broadcasting were recognized when she became a member of the Order of Canada in 2018. The Order of Canada recognizes outstanding contributions to the nation and is one of the highest civilian honours in the country.
Born and raised in Prince Rupert, her travels take her around B.C. When not in the host chair, or on the road, she can be found enjoying a good book or sampling the spectacular culinary adventures Vancouver is known for.

Volunteer with us next year!
Are you passionate about gender equality and social justice?
Would you like to contribute to the success of a large-scale fundraising event?
Email us at breakfast@westcoastleaf.org for more info.
Thank you to our sponsors
Diamond Presenting Partner
Media Partner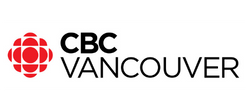 Gold Partners
Silver Partners
Bronze Partners
Borden Ladner Gervais LLP
Faculty of Law – Thompson Rivers University
Faculty of Law, University of Victoria
Harper Grey LLP
JFK Law Corporation
Juristes Power | Power Law
Lawson Lundell LLP
Mandell Pinder LLP
McCarthy Tétrault LLP
Peter A. Allard School of Law – UBC
Public Service Alliance of Canada – BC Region
The Arnold & Anita Silber Family Foundation
Trial Lawyers Association of British Columbia
UFCW 1518
ZSA Legal Recruitment

Partner with us next year!
Demonstrate that you value gender inclusion and diversity in leadership in BC
Our annual Equality Breakfast is only possible because of the generous support of our Partners. Partnership is a highly visible way to demonstrate that you value gender inclusion and diversity in leadership, are committed to social responsibility, support access to justice for all, and want to see a more equal and just BC.
To learn more about the impacts and benefits of partnership, send us an email.

Frequently Asked Questions
Event Details
Wednesday, March 24, 2021. Please log on early to ensure you have a good internet connection and your Zoom link is working. The Zoom will be open at 5:45 p.m. and you are welcome to log on, get comfortable, and mingle with old friends and new. The chat will be available and we encourage you to connect with each other before the program begins promptly at 6:30 p.m.
We provides American Sign Language interpretation and CART live captioning.
Tickets
Registration for this event is non-refundable. If you are unable to attend, you are welcome to transfer your ticket to a friend or loved one.
While we aren't able to offer tables this year, your firm or organization can purchase a partnership, which, among other benefits, would give you access to a pre-assigned breakout room so you have a chance to socialize with your group before and after the main program (5:45-6:30 p.m. and 7:45-8:15 p.m.).
Tax receipts will be issued for a portion of the ticket and/or table purchase prices.
Partnerships
To learn about the impact and benefits of becoming a Partner, request a partnership package, or to discuss your level of support, please send us an email.
Silent auction
The silent auction will be available online and in person this year. You'll have several days to peruse and bid on coveted items and services.
Can't attend the event? You can still make your bids and win your most-wanted items. More details to come!
To donate to the silent auction, send an email and someone on our team will get back to you!
Membership
By purchasing an individual ticket, you are automatically eligible to become a member. Opt-in on the payment page!
If you did not purchase an individual ticket, you can purchase a membership.
Bennett Jones LLP